Digestion & Digestive Health - Anal Fissure
Anal Fissure
An anal fissure is a cut or tear occuring in the anus (the opening through which stool passes out of the body) that extends upwards into the anal canal. Fissures are a common condition of the anus and anal canal and are responsible for 6-15% of the visits to a colonic and rectal (colorectal) surgeon. They affect men and women equally and both the young and the old. Fissures usually cause pain during bowel movements that often is severe. Anal fissure is the most common cause of rectal bleeding in infancy
Patients with anal fissures almost always experience anal pain that worsens with bowel movements. The pain following a bowel movement may be brief or long lasting; however, the pain usually subsides between bowel movements.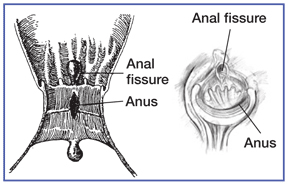 The pain can be so severe that patients are unwilling to have a bowel movement, resulting in constipation and even fecal impaction. Moreover, constipation can result in the passage of a larger, harder stool that causes further trauma and makes the fissure worse. The pain also can affect urination by causing discomfort when urinating (dysuria), frequent urination, or the inability to urinate. Bleeding in small amounts, itching (pruritus ani), and a malodorous discharge may occur due to the discharge of pus from the fissure. As previously mentioned, anal fissures commonly bleed in infants. Most anal fissures cause:
A sharp, stinging or burning pain during a bowel movement. Pain from a fissure may be quite severe. It can be brief or last for several hours after a bowel movement.
Itching, Bleeding, often a small spot of bright red blood on toilet tissue. Tell your doctor if you have any bleeding with a bowel movement. An anal fissure can be a painless wound that won't heal and that bleeds intermittently but causes no other symptoms.
Anal fissures are caused by trauma to the anus and anal canal. The cause of the trauma usually is a bowel movement, and many patients can remember the exact bowel movement during which their pain began. The fissure may be caused by a hard stool or repeated episodes of diarrhea.Occasionally, the insertion of a rectal thermometer, enema tip, endoscope, or ultrasound probe (for examining the prostate gland) can result in sufficient trauma to produce a fissure. During childbirth, trauma to the perineum (the skin between the posterior vagina and the anus) may cause a tear that extends into the anoderm. The fissure can be painful and may bleed.An anal fissure is a tear in the lining of the lower rectum (anus) that causes pain during bowel movements. It is a common condition. Anal fissures do not lead to more serious conditions.
Most anal fissures heal with home treatment after a few days or weeks (acute anal fissures). If you have an anal fissure that has not healed after 6 weeks, it is considered a long-term problem (chronic). You may need to take medicine to help a chronic anal fissure heal. Surgery may be necessary for fissures that do not heal with medicine.
The most common location for an anal fissure in both men and women (90% of all fissures) is the midline posteriorly in the anal canal, the part of the anus nearest the spine. Fissures are more common posteriorly because of the configuration of the muscle that surrounds the anus. This muscle complex, referred to as the external and internal anal sphincters, underlies and supports the anal canal. The sphincters are oval-shaped and are best supported at their sides and weakest posteriorly. When tears occur in the anoderm, therefore, they are more likely to be posterior. In women, there also is weak support for the anterior anal canal due to the presence of the vagina anterior to the anus. For this reason, 10% of fissures in women are anterior, while only 1% are anterior in men. At the lower end of fissures a tag of skin may form, called a sentinal pile.
When fissures occur in locations other than the midline posteriorly or anteriorly, they should raise the suspicion that a problem other than trauma is the cause. Other causes of fissures are anal cancer, Crohn's disease, leukemia as well as many infectious diseases including tuberculosis, chlamydia, viral infections (cytomegalovirus or herpes), syphilis, gonorrhea, chancroid (Hemophilus ducreyi), and human immunodeficiency virus (HIV). Among patients with Crohn's disease, 4% will have an anal fissure as the first manifestation of their Crohn's disease, and half of all patients with Crohn's disease eventually will develop an anal ulceration that may look like a fissure.
Disease
Symptoms and Treatment